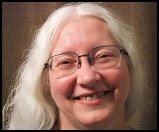 Betty Nordeng is the founder of Willowriv Consulting.  She has an M.A. degree in Economic Geography from Michigan State University, with a focus on impacts of changing industrial sectors on personal income.
For over twenty years, Betty has used her diverse research and analytical experience to incorporate data and information into a variety of projects – from genealogy to socio-economic research to grant applications.  
Her work experience includes over a decade with a regional planning agency in Wisconsin.  Through examination of the region's population, land use and infrastructure characteristics, she helped identify needs, forecasted changes in the socio-economic characteristics of the region, and developed scenarios for future housing, land use, and infrastructure alternatives. 
Betty also studied the local housing market, and spent six years serving on a variety of housing boards, working with for profit and nonprofit housing providers and advocates.  After careful listening and thoughtful discussions, she contributed to a variety of housing issues, such as public education, advocacy, and policy development.  She also provided information and education on housing, land use, and transportation to the general public.
More recently, she has engaged in providing short and long-term support for several nonprofits, including an American Red Cross chapter, the North Dakota Board of Pharmacy, Wildwood Productions, Inc., the Germans from Russia Heritage Society, and the Humane Society of Grand Forks.  Betty is a member of the Association of Independent Information Professionals, and abides by AIIP's code of ethics.
She grew up on a small family farm, and has lived in communities of various sizes in several different states.  Betty has a passion for learning and sharing information with others. Appreciating the advantages of smaller communities and local businesses, Betty has made it her mission to strengthen individuals, small businesses, and organizations in order to help them thrive.
Contact Willowriv Consulting today for a free consultation.