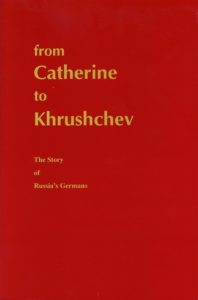 Did you know that a variety of German ethnic groups settled in Russia between the 16th and 19th Centuries at the invitation of the Tzars?
Do you know why they immigrated to Russia? Where and how they lived?  What precipitated their diaspora to the rest of the world? Did you know that some remain?
A variety of excellent books have been written on the German Russian experience from pre-migration through today.  One of my favorites is "From Catherine to Khrushchev – The Story of Russia's Germans" by Dr. Adam Giesinger.
Giesinger's book is a concise history of the Germans from Russia experience among multiple religious and ethnic groups.  This book not only provides the historical background, it also explains the context and some of the differences between groups.
Within the book, you will also find timelines, important dates, information on settler's origins, areas of settlement and the names and locations of colonies and daughter colonies.