Nested along the western shore of the St. Croix River is the historic town of Taylors Falls, MN.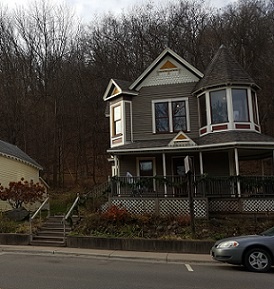 First incorporated in 1858, this small city has maintained its historic charm through maintaining historic structures and remodeling or repurposing others.
One such building, a renovated Victorian, is home to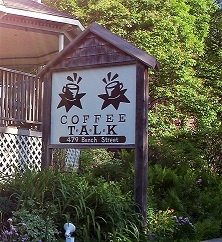 Coffee Talk. 
The Coffee Talk provides multiple opportunities for relaxing and enjoying a cup of tea, coffee or apple cider with or without a pastry.
If you enjoy being outdoors, relax on the front veranda or enjoy the garden behind the house. 
A variety of indoor seating provides space for customers year round. On the first floor, orders are taken at the long wooden bar.  The first floor also holds tables for seating, a variety of board games for customers to use, plus a small gift shop.
If seating on the first floor is full or you and your friends are looking for a little more privacy, wander upstairs. On the second floor you can work on your laptop, read a book, study, relax on the couch with friends or enjoy the street view from inside the turret.