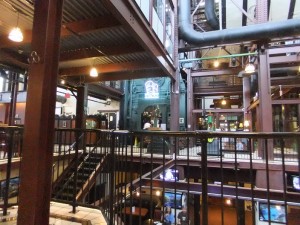 What do you do with a structure that has been part of the landscape for many years; but has outlived its original purpose?  With a little creativity, cooperation, and collaboration, you can do a lot.
The Steam Plant Grill is part of a successful adaptive reuse and renovation project in downtown Spokane. According to the Steam Plant website, Washington Water Power shut down the Central Steam Plant in downtown Spokane in 1986. This historic landmark sat empty for 10 years.
In 1996, Washington Water Power formed the Steam Plant Square LLC, and partnered with Wells and Company, Spokane, WA to put together a team to renovate the former steam plant. The project was expanded to include other buildings. The end result is a smart collection of restaurant, brewery, office space, and retail shops.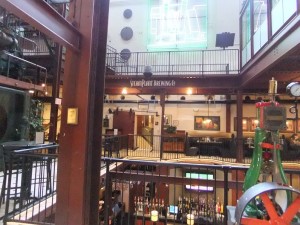 I first visited the Steam Plant Grill in 2011. The food was excellent and the staff professional and friendly. The restaurant is now called the Stacks.  Read more about the project at: http://steamplantspokane.com/, or stop in for a unique dining venue.
Before demolishing a structure, try visiting the Steam Plant Square and other successful renovation projects to see the possibilities.